---
Tried and Tested: 5 Corporate Hacks That Make You Look Like a Work Superstar
Skyrocket Your Productivity and Impress with These Hacks
Truth be told, we only know perhaps less than half of the shortcuts and additional functions of let's say, our email. Perhaps searching for functions beyond the basic ones may take up too much of our time. Perhaps we can still fall back on the traditional methods of sending out emails. However, what if learning a couple more tricks can actually safeguard yourself against fatal email mistakes and impress your colleagues?
1. There's Room for Turning Back That Email with a Mistake
That moment of realisation that the email you have just sent was supposed to be addressed to your client but instead contains a wrong name. Maybe you have carelessly forgot to replace the recipient's name when you used last year's email template.Your hands turn cold. What's next?
You probably know this feeling. While most of us in the corporate world will be forgiving about minor email mistakes, it's no joke when it's an official email to be received by your big client.
Now, being able to undo all of that anxiety with just one click - what a godsend!
[Gmail] To turn the undo feature on in Gmail, simple head to settings and enable it. Remember to choose your desired time limit to undo emails after they are sent.
Tip: The longer the time limit (30 seconds), the better!

Note: If you have exceeded the undo time limit on gmail, it will be sent to your recipients and there isn't much you can do.
[Microsoft Outlook] Recall This Message feature in settings of your Outlook. This works only if your recipient is also using Outlook. If not, there isn't much control over the email if it is already sent.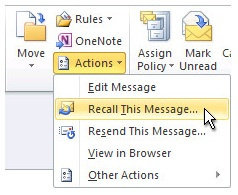 Recall option for Microsoft Outlook
Simply open the sent folder and select the email that you would like to recall. Click Actions and recall this message. This function also allows you to recall, replace, or delete messages that you have sent.
Another primal way of literally stopping an email from being sent out is to unplug your internet connection shortly after you accidentally clicked the send button. Afterwards, go into your outbox and delete the message. As a rule of thumb, anything that is still in your outbox means that it has yet to be received by the other party.
To avoid unnecessary panic attacks, do check your email contents carefully before sending them out to important people!
2. Looking for Something?
If it is like looking for a needle in a haystack, use a magnet. If it is looking for one email in an ocean of emails, use codes in the search box. You can also type "has:James" to look for emails from James.
[Gmail] Locate the search bar in your Gmail and type in "has:attachment". You can also type "has:James" to look for emails from James.

Add the code "has:attachment" in the search bar.
[Microsoft Outlook] Ctr+E to bring up instant search bar. If you are using the HTML version (in your browser), typing has:attachment in the search bar will bring up emails with attachments.

Search results in Microsoft Outlook
For some reason, seeing a flooded inbox can be a huge turn off. Like how you would use drawers to keep your items organised in the office, use folders and labels to sort your emails too!
[Gmail]
They call it labels instead of folders. If your email contains "Happy Valentines Day" and you create a label called "Happy Valentines Day", they might label it automatically for you. Labels also act like folders where you can drag and drop emails from the inbox.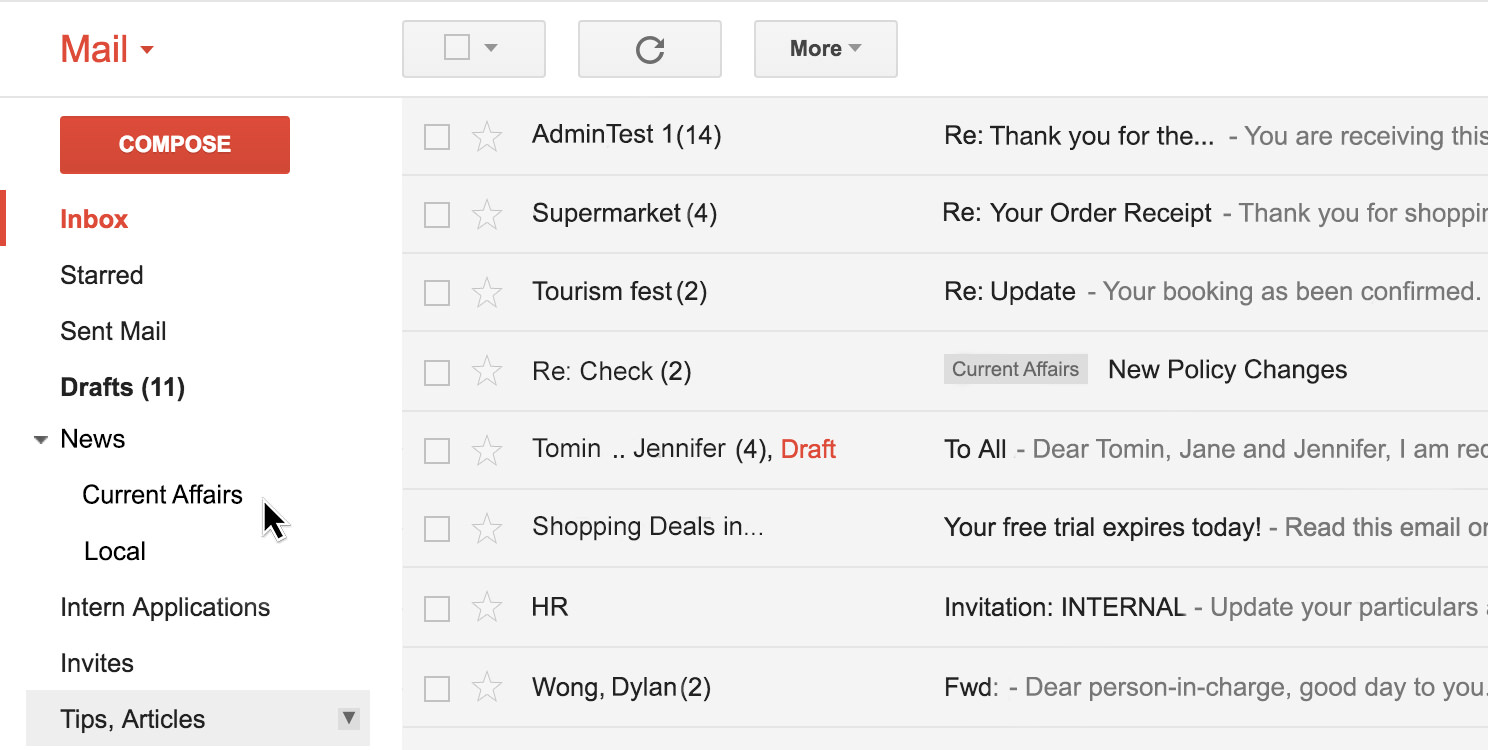 Labels inside Gmail
[Microsoft Outlook] If you use Outlook for your emails, you can also create similar folders to sort and organise your flooded inbox.

Create folders and subfolders to keep your mailbox organised in Microsoft Outlook
3. Save Time and Impress with These Shortcuts
At times without a mouse, skip the trackpack and navigate around your inbox with shortcuts! This can even wow your boss and colleagues!
To start off, if you are a Gmail user, head to settings and turn on Keyboard Shortcuts and save.
To draft a new email
[Gmail] press 'C'
[Microsoft Outlook] Ctr + Shift + M
To reply an email
[Gmail] Press R
[Microsoft Outlook] Alt + R to reply
To forward an email
[Gmail] Press F
[Microsoft Outlook] Alr + W
To send an email
[Gmail] After composing message, press tab + enter
[Microsoft Outlook] Alt + S
There are so many more shortcuts for both Gmail and Outlook. However, we understand that you may only need these for a start. Your colleagues may even want to learn a thing or two from you!
4. Track Your Email
In the past, it's hard to know the status of a sent email once you have dispatched it from your end. With tracking capabilities that can be added directly into your email, you will know who has read your email and who hasn't.
Simply put, there are programs to help you send tracked email to monitor opening rates and click rates. This way, you can check the interest level of new sales leads that you have contacted and spot if your colleague is telling the truth when they said 'i have not open the email yet.
Examples of such services include Hubspot, Followup.cc, mailchimp, among many others.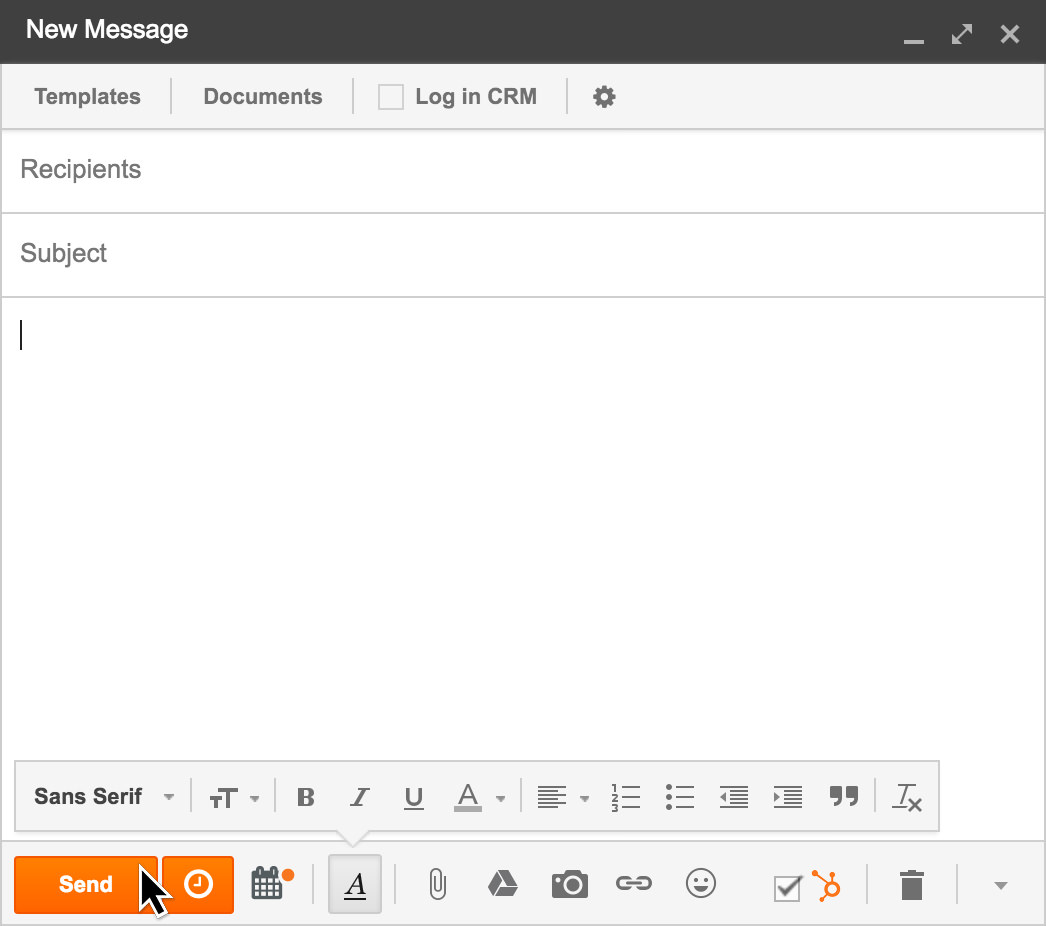 Sending tracked emails using HubSpot Sales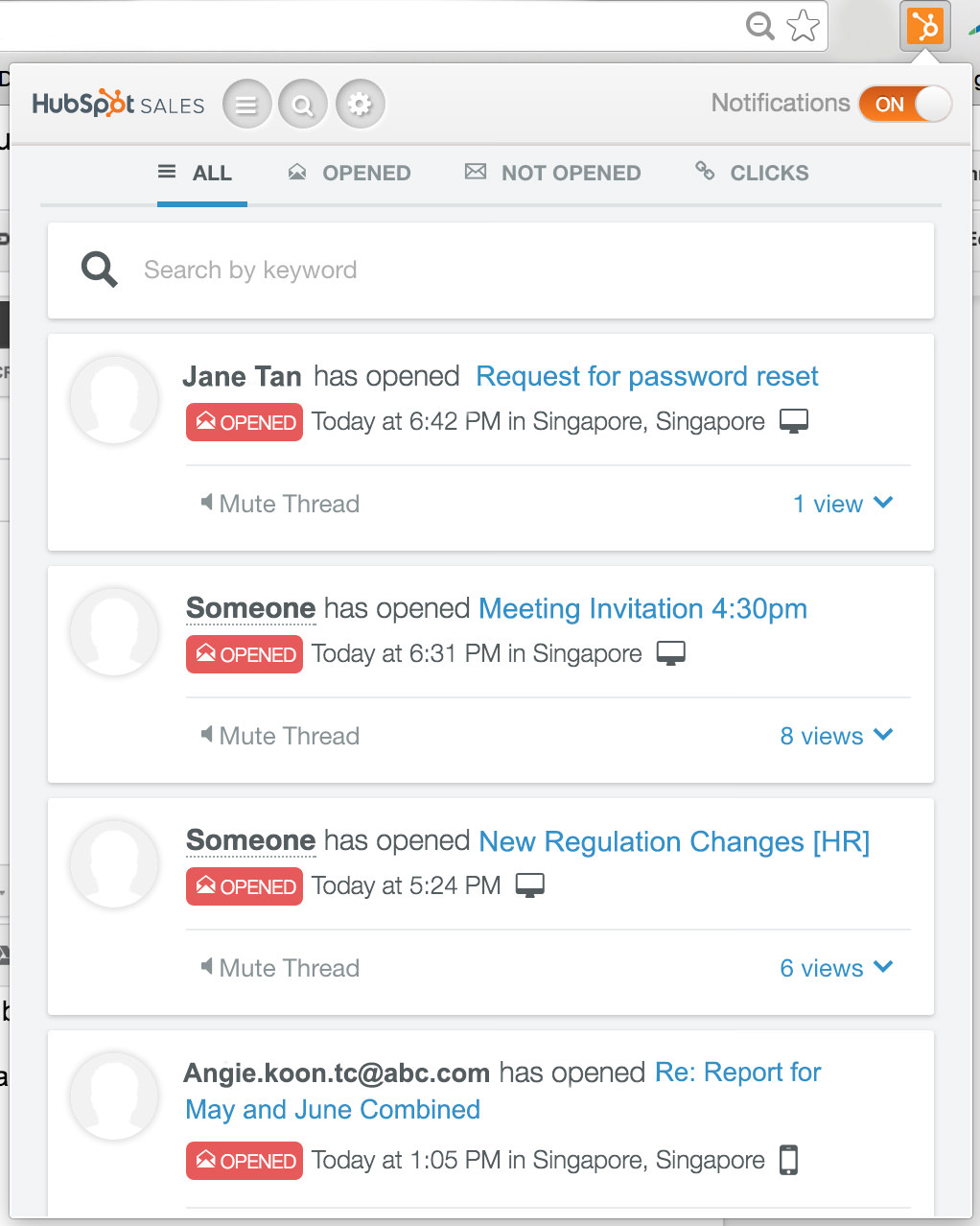 Records of email opens and clicks, tracked using HubSpot Sales plugin on web browser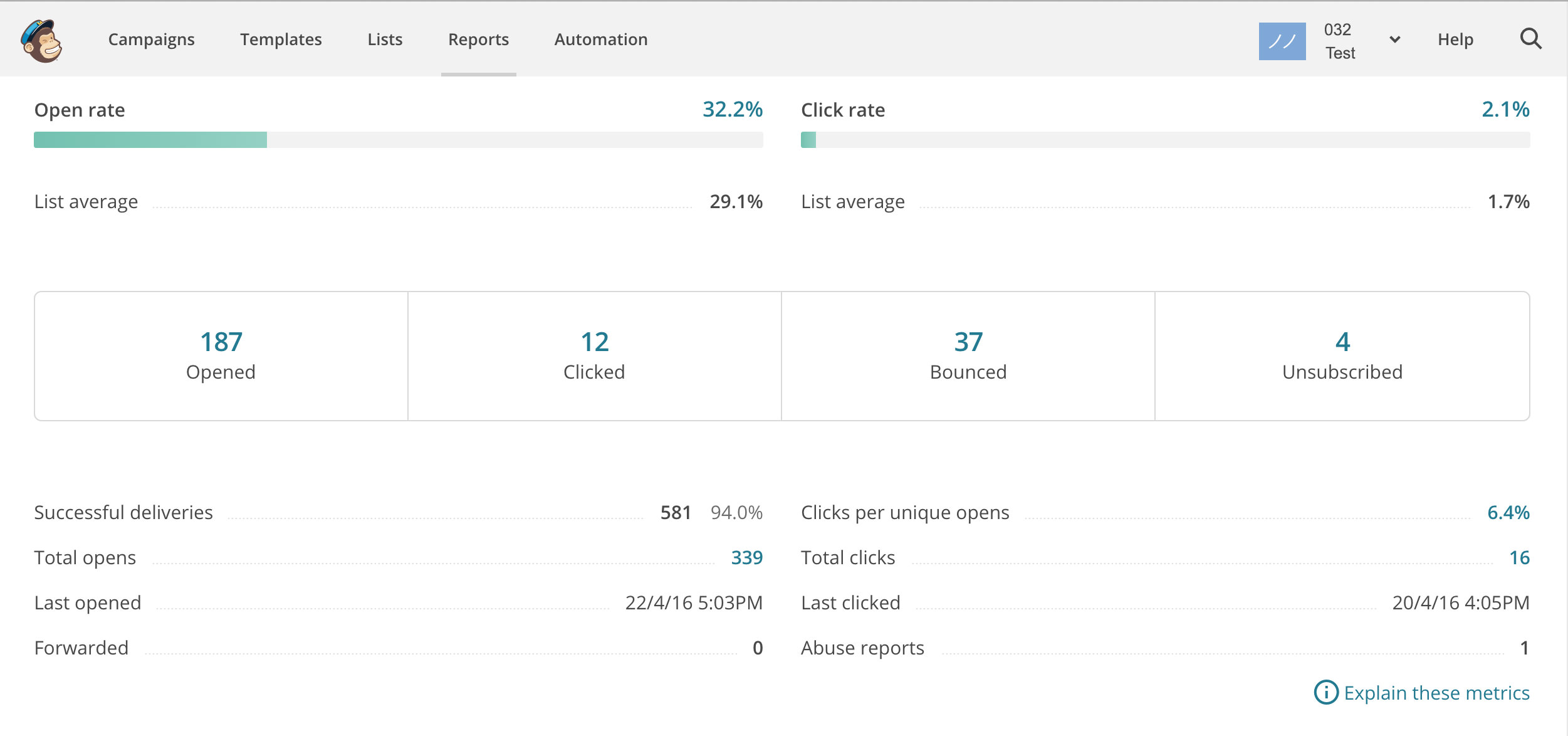 Mailchimp Campaign Report
5. Keep Track of Your Tasks
Tools that can keep track of your assignments can help to lighten your memory burden. Most of these tools are free, so why not just try them out to see if it suits you? Other than keeping track of your tasks, it can also keep track of other information such as notes, favourite inspiration quotes, weekend shopping list and helpful website links that you might want to utilise in the future.
You can explore Trello, Google Keep, Todoist, Wunderlist, Any.do, HabitRPG, among many other programs to help you better organise your assignments on your electronic devices. The best thing is that they are mostly accessible via mobile, so you can keep track of your task even when you're on your computer.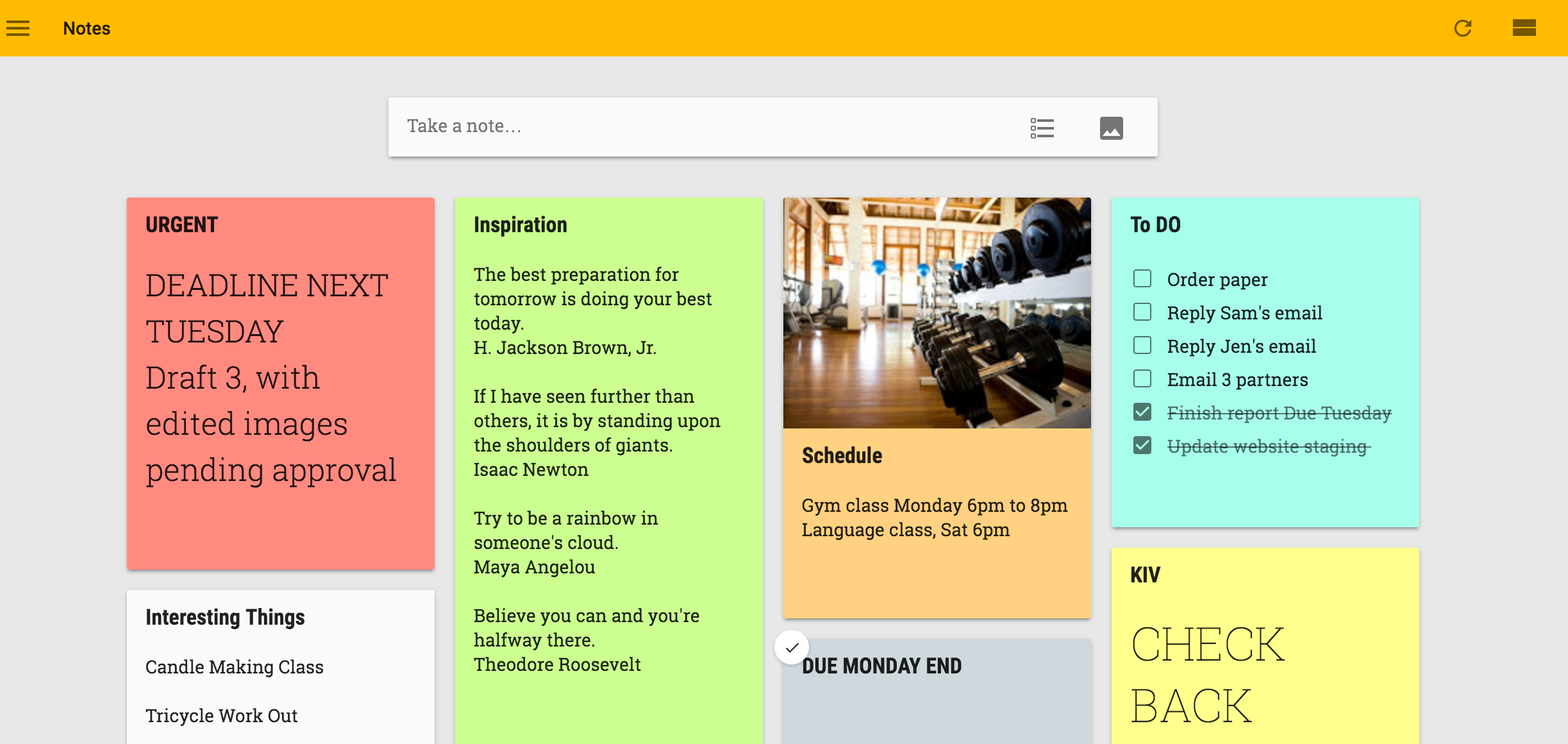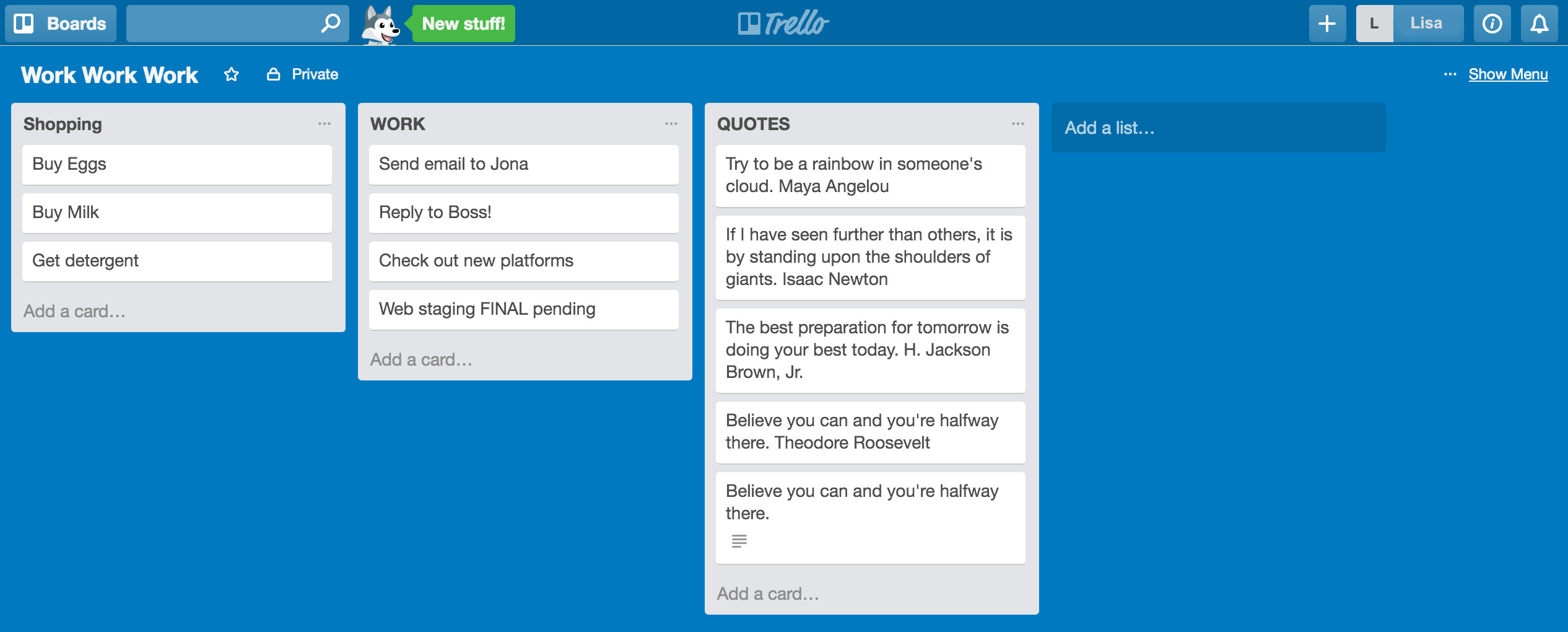 Trello
These corporate hacks are certainly going to be helpful at your workplace. Little tools like these can come together and make a big difference to your level of productivity! What other tools have you found useful to keep your work organised?
NOTE
The links to the external publications on this page are provided purely for your information and educational purpose only. Tokio Marine Group does not guarantee the accuracy, completeness or suitability of the contents of these external publications. We are not endorsing any of the external products or services which are stated in these external publications, and do not attempt or intend to influence the purchase or sale of any such products or services. It should not be implied that the products, services or activities published in these external publications may also be covered under our insurance policies. Should you require more information on our products, please refer to the respective product summary or contact us.