---
We, PT Asuransi Tokio Marine Indonesia (TMI), were awarded as "Best General Insurance 2018" (1st position) in the category of general insurance companies with equity between IDR 500.0 billion and IDR 1.5 trillion. On July 12, 2018, the award was handed over to Mr Masayuki Mizunuma as the President Director of TMI on Insurance Award 2018 night event held at Le Meridien Hotel.
Claim payment ratio and other financial indicators put TMI ahead from other competitors within the same category. These financial indicators include TMI's comprehensive profit that was recorded at IDR 131.4 billion, successfully increased by 28% year on year. According to Media Asuransi Research Institute (LRMA), TMI's return on equity was also ranked in top 3. Besides, the Company's underwriting income grew by 20% to reach IDR 301.7 billion, while direct premiums increased by 6% to achieve IDR 1.2 trillion.
We have been focusing on developing our strength in Marine business and retail business like Motor and Accident & Health, which contribute to "net growth". One of our key initiatives is also to deepen the digital business model as we think that this would become one of the strongest channels for retail business expansion in the future right before our eyes. Furthermore, we will continue having synergy with our life operation to broaden our service as one-stop shopping insurance provider. 'To Be a Good Company', the message shared among all Tokio Marine group companies, is the key for us to achieve a long-term commitment to the society. We always aim to be the company that is evaluated and selected by customers and business partners.
About Media Asuransi
Media Asuransi is a magazine which specialized in insurance, banking, multi-finance, capital market and other financial industries. The magazine was found by the Indonesian Insurance Council (DAI) and first published in March 1980 under the name Protection. In March 2007, DAI established PT Media Asuransi Indonesia and since then, Media Asuransi was launched. PT Media Asuransi Indonesia is owned by DAI, the Indonesian General Insurance Association (AAUI), the Indonesian Life Insurance Association (AAJI), the Indonesian Insurance and Social Security Association (AAJSI), the Indonesian Insurance and Reinsurance Brokers Association (Apparindo) and the Indonesian Loss Insurance Adjuster Association (APKAI).
Media Asuransi conducted 12th financial review on financial performance in 2017 of life insurance, general insurance, sharia insurance and reinsurance. To conduct this review, Media Asuransi Research Institute (LRMA) used financial ratios so that the financial performance of each insurance industry group can be defined. There were 10 criteria used to measure the performance for each group. For the year 2018, there were 143 insurance companies reviewed by LRMA including 53 life insurance companies, 74 general insurance companies, 10 syariah insurance and reinsurance companies and 6 reinsurance companies.
About PT Asuransi Tokio Marine Indonesia
PT Asuransi Tokio Marine Indonesia is a joint-venture general insurance company between Tokio Marine Asia Pte. Ltd. & PT Asuransi Jasa Indonesia and has been doing business in Indonesia since 1975. Currently the Company has 8 branch offices and 4 representative offices. PT Asuransi Tokio Marine Indonesia is one of the biggest general insurance companies in Indonesia and has been receiving many awards due to its excellent predicate on financial performances. TMI has also been assigned a Financial Strength Rating of A- (Excellent) by A.M. Best, one the prominent international rating agencies focusing exclusively on the insurance market, since June 23, 2017. It is the mission and commitment of PT Asuransi Tokio Marine Indonesia to be an integral part of community through its compliance with relevant regulations and sound participation in the community. For further information, please visit www.tokiomarine.com.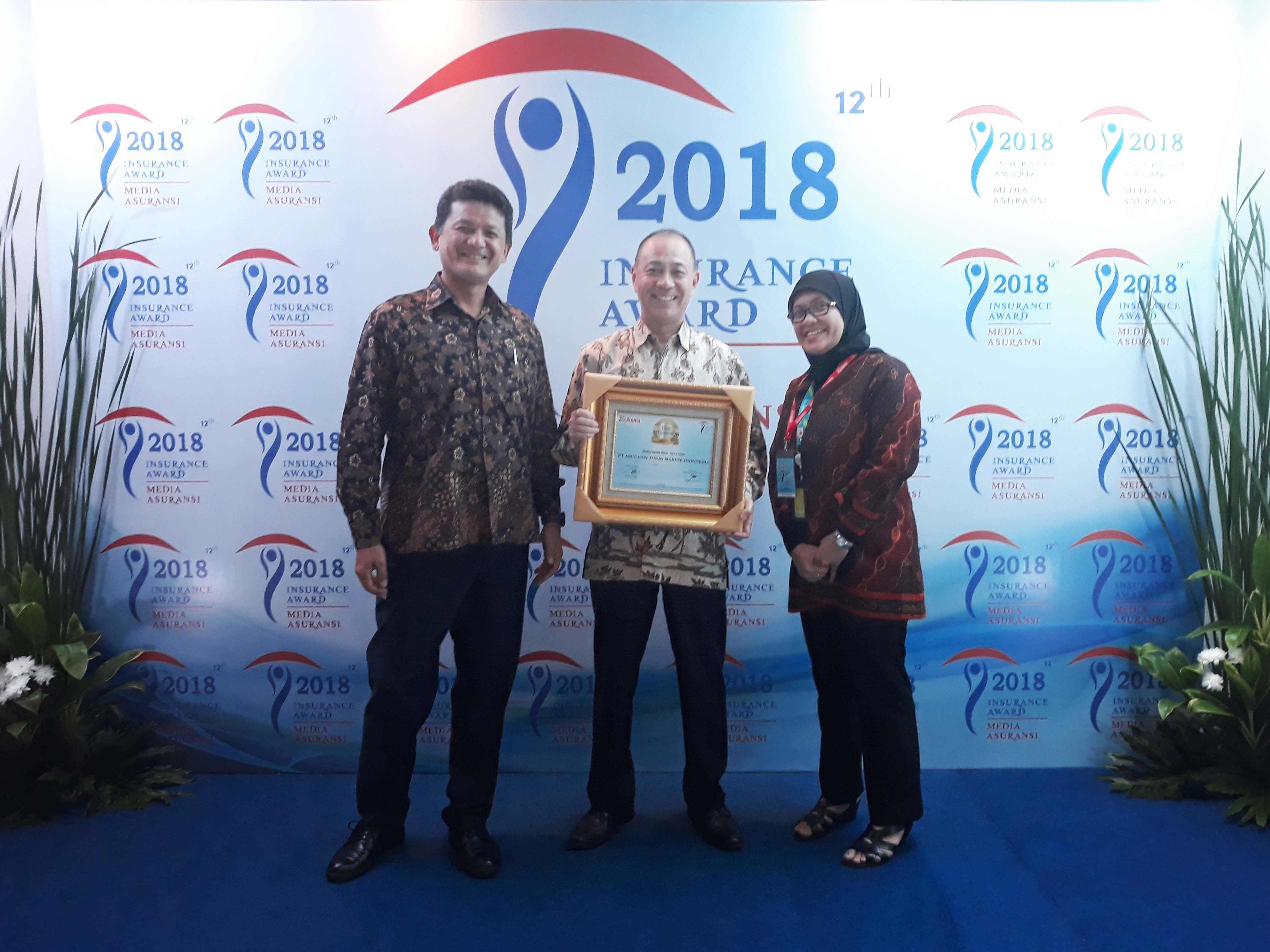 From left to right: Mr Teruaki Tanaka (Managing Director), Mr Masayuki Mizunuma (President Director), Ms Indah Dwi Yuniati (General Manager of Commercial Division)
For more information about this press release, please contact Juliana on 572 5772 ext 1302 (juliana.chindra@tokiomarine.co.id) or Dita ext 1303 (dita.anggrawati@tokiomarine.co.id)
Rincian Berita
Jenis Berita
Rilis Berita